Trump's USPS Tampering May Constitute at Least 2 Federal Crimes
Delaying mail is punishable by up to 5 years in prison
(Editor's note, 8/14/20, 10:49 AM: This post was updated to include comments from legal experts Sanford Levinson and Eugene Volokh, and the headline was amended from Trump's USPS Tampering Constitutes at Least 2 Federal Crimes to Trump's USPS Tampering May Constitute at Least 2 Federal Crimes.)
There are roughly 200 federal laws covering the investigation of crimes related to the U.S. Postal Service and mail delivery. Among the more serious ones are felonies like mailing explosives and toxic substances, mail fraud and money laundering, and identity theft. But even general obstruction of mail delivery is a federal crime punishable by up to six months in prison under 18 U.S. Code § 1701.
USPS officers and employees can also be imprisoned for up to five years under 18 U.S. Code § 1703, which covers any Postal Service officer or employee who "unlawfully secretes, destroys, detains, delays" letters/cards/packages "intended to be conveyed by mail, or carried or delivered by any carrier or other employee of the Postal Service."
Both President Trump and his recently appointed Postmaster General Louis DeJoy are arguably in violation of those statutes. The question of why Trump is going to the lengths he is to make voting by mail difficult can perhaps be answered through Ivanka Trump.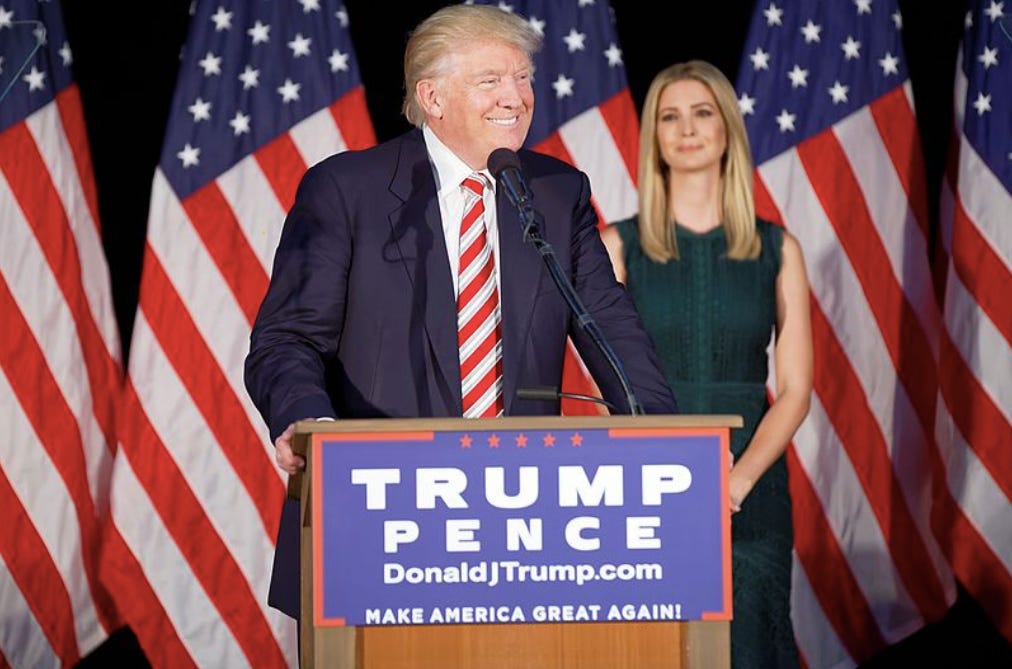 (Donald and Ivanka Trump. Photo by Michael Vadon/Wikimedia Commons)
——————————————————————————————————————
In October of 2018, Ivanka Trump got preliminary approval on several Chinese trademarks. When translating page 15 of the approval forms posted by Citizens for Responsibility and Ethics in Washington (CREW), one of the trademarks approved is for, among other things like semiconductors and integrated circuit computers, "voting machines." Most of the other trademarks were for more conventional items like apparel and handbags.
Last month I submitted public records requests to elections officials in roughly a dozen of the most populous counties in pivotal swing states like Florida, Michigan, Ohio, Pennsylvania, and Wisconsin, asking for any copies of records pertaining to voting machines those counties bought dating back to October of 2018, for use in the 2020 elections, that were manufactured in China.
My hypothesis for awhile was that Trump didn't need to fear losing reelection because voting machines with internal equipment trademarked by his daughter would be in use in the states that will determine his fate. As is often the case in investigative reporting, the rabbit hole (thankfully, in this case) leads nowhere.
I've only heard back from a few counties — Franklin County, Ohio (which houses Columbus) told me they have no such records pertaining to my request. Allegheny County, Pennsylvania (which houses Pittsburgh) requested more time to procure records in an email last week. Cuyahoga County, Ohio, which houses Cleveland, told me they haven't purchased any new voting machines since 2017. I'm still waiting to hear back from others. But it looks like Ivanka's voting machines won't be in play.
Of course, the COVID-19 pandemic has basically made in-person voting an impossibility given that the virus is still very prevalent in the United States, with more than 2,000 students and teachers already in quarantine just a week after most schools reopened for the fall. This means the 2020 election will almost certainly be determined by mail-in ballots instead of machines.
——————————————————————————————————————
Mail-in ballots are great for voter turnout, which means they're terrible for Republicans seeking reelection. In my deep-red home state of Kentucky, there were approximately one million ballots cast in the June primary, which beat out the previous turnout record set in 2008. According to Politico's tally, there were more Democratic voters than Republican voters in both the presidential and Senate primaries — even though Mitch McConnell had two primary opponents. CBS attributed the high turnout in Kentucky to voters being able to cast their ballots by mail.
Many states already conducted voting by mail with great efficiency before the pandemic. Colorado, Hawaii, Oregon, Utah, and Washington state are all universal vote-by-mail states. Donald Trump routinely votes by mail (and once even did so on video), as do many Trump administration officials. But with less than 100 days to go in an election where he's trailing Joe Biden by a double-digit margin in many polls, Trump is waging a full-on assault on mail-in ballots.
Trump recently defended his decision to withhold critical funding for USPS operations specifically because of vote-by-mail efforts.
"Now they need that money in order to make the post office work so it can take all of these millions and millions of ballots," Trump told Fox Business' Maria Bartiromo on Thursday. "But if they don't get those two items that means you can't have universal mail-in voting."
In May, President Trump appointed Louis DeJoy as Postmaster General — the first such Postmaster General who hadn't risen through the ranks of the USPS. DeJoy most likely got the position through his reputation of writing checks for Republicans. Federal campaign finance records show he's donated roughly $1.5 million to Republican causes in this cycle alone. Since taking control of the U.S. Postal Service this summer, it could be argued that DeJoy's aim has been sabotage.
-In July, DeJoy ordered an agency-wide slowdown of mail delivery, which resulted in a severe backlog in delivery of important items like prescriptions and paychecks. Residents in one Philadelphia neighborhood told the Philadelphia Inquirer that their packages were delivered sometimes three weeks late.
-Last week, DeJoy reassigned and displaced 23 top USPS executives in a power-grab aimed at centralizing his leadership role. The reassignments come amid scrutiny over DeJoy's "cost-cutting measures" that ban postal workers from working overtime and from making extra trips to deliver mail.
-On Thursday, Vice reported that the USPS is removing nearly two dozen mail sorting machines at five different mail processing facilities without any explanation. Postal workers say this will impact their ability to process large amounts of mail — like ballots, for example — in a timely fashion. According to the National Conference of State Legislatures, ballots received after Election Day are not counted in 32 states. In Michigan, Pennsylvania, and Wisconsin (the states that swung the 2016 election for Trump) officials do not count ballots received after Election Day.
I'm not a lawyer or a prosecutor, but it seems obvious to me that Trump's admission of withholding USPS funding to complicate vote-by-mail efforts is a blatant violation of 18 U.S. Code § 1701 (obstruction of mails generally). DeJoy's efforts seem like they could be easily prosecuted under 18 U.S. Code § 1703 (delay or destruction of mail).
However, when I asked several legal experts about potential violations of these statutes, prosecuting the administration under these statutes would become considerably more complex.
"I don't see the statutes as precluding the President from opposing extra funding (or for that matter as precluding Senators or Representatives from voting against extra funding)," Eugene Volokh, a law professor at the University of California-Los Angeles, told me in an email. "Indeed, it would be unconstitutional for Congress to try to block the President's (or anyone else's) political calls for reducing funding (or cutting back on delivery services or firing postal employees or stopping Saturday delivery or whatever else)."
"I don't see any substantive violation here," he added.
While University of Texas law professor Sanford Levinson admitted this particular scenario is beyond his professional expertise, he did say accusing the administration of violating these two statutes "makes perfectly good sense to me."
"What we can say with confidence is that Trump's actions vis-à-vis the Post Office are motivated entirely by self-serving desires regarding his re-election," Levinson wrote in an email on Thursday.
"As is true of so much of the legal challenge to Trumpism, any litigation would probably depend on the willingness of a court to look beyond the surface reasons offered, which might 'make sense,' formally, and be acceptable if one in fact trusted the decisionmakers."
Both are impeachable offenses, and we all know Republicans would be screaming for impeachment of a Democratic president who crippled the Postal Service for political purposes. But impeachment takes too long.
The best-case scenario for quick action would be for state Attorneys General to bring a lawsuit against Trump and DeJoy, seeking injunctive relief by petitioning a federal judge to compel the administration to immediately halt efforts to slow down and delay mail delivery. Attorneys General Dana Nessel of Michigan, Josh Shapiro of Pennsylvania, and Josh Kaul of Wisconsin, all of whom are Democrats, could be the lead plaintiffs.