Massive Wave of Right-Wing Domestic Terror Targets Black Lives Matter Protesters
There have been over 300 incidents in 218 counties since May 30
Portland State University professor Alexander Reid Ross has spent the last several months extensively documenting an unprecedented wave of domestic terrorism carried out by right-wing vigilantes — sometimes with the endorsement of and even participation from police — in more than 200 counties across the United States. I interviewed him earlier this week about his project. But before we get to that, it's important to read about a Black man from Bakersfield, California named Robert Forbes, and his killer, Timothy Moore.
---
June 3, 2020, was a typical summer evening in Bakersfield. It was a sunny, cloudless, with a low of 69 degrees. In other words, ideal driving conditions. There was no logical reason for Timothy Kieth Moore, a 41-year-old white man, to drive his car into Robert Forbes -- who, like many thousands of other Americans in the wake of George Floyd's killing at the hands of Minneapolis police -- was peacefully protesting by occupying a roadway.
Nothing was wrong with Moore's headlights, there were no slippery or hazardous road conditions, and no other drivers crashed into protesters. Every scenario leads to the logical conclusion that Moore deliberately used his car to kill Forbes. A GoFundMe launched by a local attorney has raised nearly $85,000 for Forbes' family, though that's a pittance compared to the life of a man loved by his family and community.
After running over Forbes, Moore was protected by a phalanx of police, without handcuffs on, casually smoking a cigarette.
This is far from Moore's first brush with the law. Entering "Moore, Timothy" with a birthdate of 1978 into the criminal case lookup on the Kern County Superior Court website brings up an extensive rap sheet of a "MOORE, TIMOTHY KIETH" ("Kieth" is how Moore spells his name on his Facebook profile) that includes assault, inflicting corporal injury on a spouse/cohabitant, violation of a court order to prevent domestic violence, multiple counts of hit & run resulting in property damage, driving under the influence, and various traffic violations.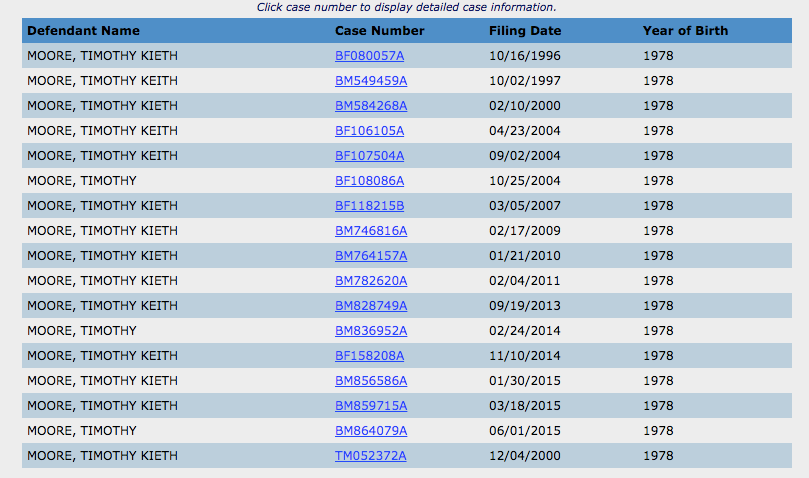 Most recently this year, Moore was arrested with $617,000 worth of drugs following a year-long investigation into drug trafficking by the San Luis Obispo County Sheriff's Office. Local media reports that the subjects of the investigation — Timothy Moore and Jesse Talaugon — may have direct ties to Mexican cartels. Moore's mugshot shows he's covered in tattoos, which I'll get to in a moment:
Moore was taken into custody by the California Highway Patrol on Highway 101 near Solomon Road after stopping his vehicle at the request of the SLO Sheriff's Special Operations Unit, [Sheriff's Office spokesman Tony] Cipolla said.

A search of the vehicle allegedly yielded approximately 1 pound of methamphetamine, 1 kilogram each of heroin and fentanyl, a loaded handgun, bags of pills that were a combination of Tylenol and fentanyl and more than $2,000 in cash. 

Sheriff's deputies stopped Talaugon's car at 2 a.m. Feb. 20 in the 100 block of South Street to serve a search warrant on the vehicle that allegedly yielded approximately 2.5 pounds of methamphetamine, baggies containing a substance suspected to be heroin and $4,000 in cash. 

…After detectives served the search warrant on the South Street house, they allegedly seized three-quarters of a kilogram of heroin, scales and packaging indicative of narcotics trafficking and two handguns. 

In all, investigators seized narcotics valued at a total of $617,000.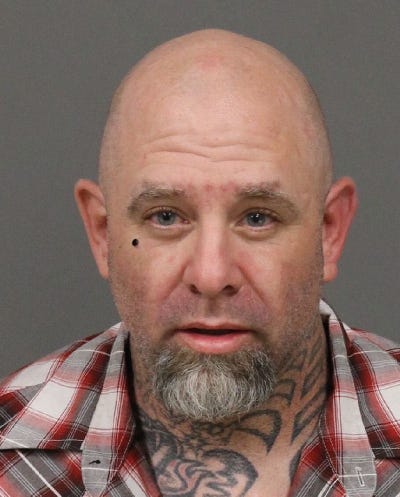 Cynthia Zimmer, the District Attorney in Bakersfield (which has the 6th-highest per capita rate of police shootings of civilians) refuses to charge Moore. A change.org petition calling for Forbes' killer to be charged has accumulated nearly 50,000 signatures, yet no charges have been filed against Moore. This is despite Moore openly admitting to running over Forbes on his Facebook profile.
Even though Moore maintains it was an accident, California's vehicular manslaughter statute — which doesn't require a pedestrian to be in a crosswalk, or for a driver to have malicious intent — is still punishable by up to six years in prison. As I mentioned earlier, Moore is covered in tattoos, one of which appears to be "1488," a traditional neo-Nazi greeting. Given his criminal background and the mountain of public evidence, there's no logical reason for Timothy Kieth Moore to not be behind bars right now.
---
The car attack on Robert Forbes is just one of dozens since the George Floyd uprising swept the country. According to the New York Times, there have been at least 66 car attacks on protesters since George Floyd was killed, and 24 of those attacks have resulted in criminal charges, including hate crime charges. Seven of those car attacks were done by police, including in New York City, in which NYPD commissioner Dermot O'Shea defended an officer who drove into protesters blocking a street, and defended other officers who arrested legal observers.
Earlier this week, I spoke with Alexander Reid Ross, who is an adjunct geography professor at Portland State University (the second-largest university in Oregon). Starting on June 2, Ross began compiling a megathread documenting any and all instances of right-wing vigilante violence against Black Lives Matter protesters. Ross' megathread also documents threats and intimidation from far-right militia groups like the Three Percenters.
Ross has been posting his findings on a black and white interactive map, in which counties where violence has occurred are colored in red. Between May 30 and the July 4 weekend, Ross has documented 311 incidents in 218 counties. To be included in the data set, the violence in question must be politically motivated. This means violence like the fatal July 2 shooting of a journalist at a protest camp in Louisville, and a business owner shooting a looter in Philadelphia doesn't get included.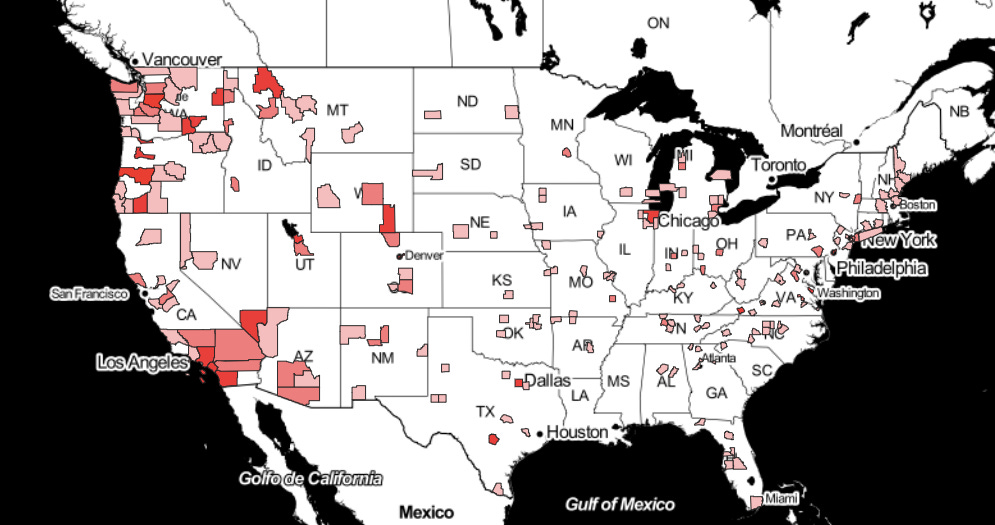 "I wanted to make sure it didn't all slip through the cracks," Ross told me in a phone interview on Tuesday. "Car attacks are absolutely the most common type of incident outside of intimidation, which I qualified as people showing up with guns, yelling at and harassing protesters, sending death threats, and getting protests cancelled."
"I've only been recording right-wing attacks and threats, I've not been looking at other instances of vigilantism, like people sitting in their stores with guns and shooting at looters, things like that," he added. "These are mostly politically motivated."
Ross' list suggests a troubling trend of police cooperation and enabling of right-wing violence against Black Lives Matter protesters. So far, Ross has documented 15 incidents in which law enforcement has been directly supportive of armed right-wing vigilantes.
"[Incidents include] Salem, Oregon where [police] took a photo with vigilantes. They did the same thing in Olympia, Washington. You have the Canadian County, Oklahoma sheriff saying they're going to muster a posse. You have a sheriff in Florida who encouraged people to shoot looters. You have Orange County police wearing Three Percenter patches," Ross said. "You see a kind of general affinity [between right wing groups and police]."
Some of the other incidents Ross documented include an officer with the Chicago Police Department wearing a Three Percenter mask, and even a group of Albuquerque Police Department officers meeting with vigilantes at an MMA gym that later counter-protested with the New Mexico Civil Guard — a right-wing militia group that ended up shooting a Black Lives Matter protester (charges were eventually dropped against alleged Albuquerque shooter Steven Baca, who is the son of a former sheriff).
In the Department of Homeland Security's 2017 lexicon, the extended definition of "domestic terrorism" includes any unlawful act of violence that "appears to be intended to intimidate or coerce a civilian population, to influence the policy of a government by intimidation or coercion, or to affect the conduct of a government by mass destruction, assassination, or kidnapping."
Ross unequivocally believes the ongoing wave of violence against protesters counts as domestic terrorism, and cited ISIS' prolific use of car attacks in the last several years as something that has inspired today's right-wing domestic terrorists. As the New York Times reported, a perverse right-wing meme culture that makes light of running down protesters ("Run Them Over" and "All Lives Splatter" are common themes) has emerged.
"Image boards like 8kun, 8chan, when they see this kind of thing, there's no other word for it than jubilation. And that kind of celebration of extreme violence and murder, with a political end, I don't know how else you would define that," Ross said. "Whether it's Dylann Roof going into a black church and opening fire, or Patrick Crusius going into a Walmart in El Paso, or someone getting in their car and ramming into a big crowd of people, they all have the same motivation in going into a crowd of people who are really helpless and vulnerable."
"What you usually find when you study terrorism is that it's not necessarily designed to carry out a direct objective other than the heightening of political tensions and oppositions. It's there to polarize," Ross continued. "When ISIS carries out a car ramming attack in Paris, for example, they're trying to send a message and they're also trying to get a crackdown going. They want France to start expelling refugees. They want crackdowns against Muslims in Europe."
"It's like a force-on-force war. It's asymmetric. And it's working to dismantle the fabric of multicultural life. And it works," Ross added. "That leads me to believe that the objective is in fact terrorism."
According to an unofficial tally by Wikipedia contributors, at least 26 people have been killed during the George Floyd uprising, most of them nonviolent protesters. But rather than try to calm tensions, Ross believes President Trump is using the power and influence of his office to exacerbate violence and encourage more vigilantism.
"Yelling in all caps on Twitter 'LIBERATE MICHIGAN' is sort of a direct order to his base to rally against health and safety and to usurp the authority and jurisdiction of local governments," Ross said. "When he said 'when the looting starts the shooting starts,' that encourages vigilantes to go and grab their guns."
"When he tweets about the 2nd Amendment in more discreet terms, he's giving a head-nod to armed vigilantes. And he's posting photos of protesters on his Twitter to get people to identify them, and it's kind of like posting a 19th century wanted poster, encouraging bounty hunters in a way," Ross added. "When the President of the United States is doing it, he's encouraging vigilantism. And I don't think there's any doubt about that."